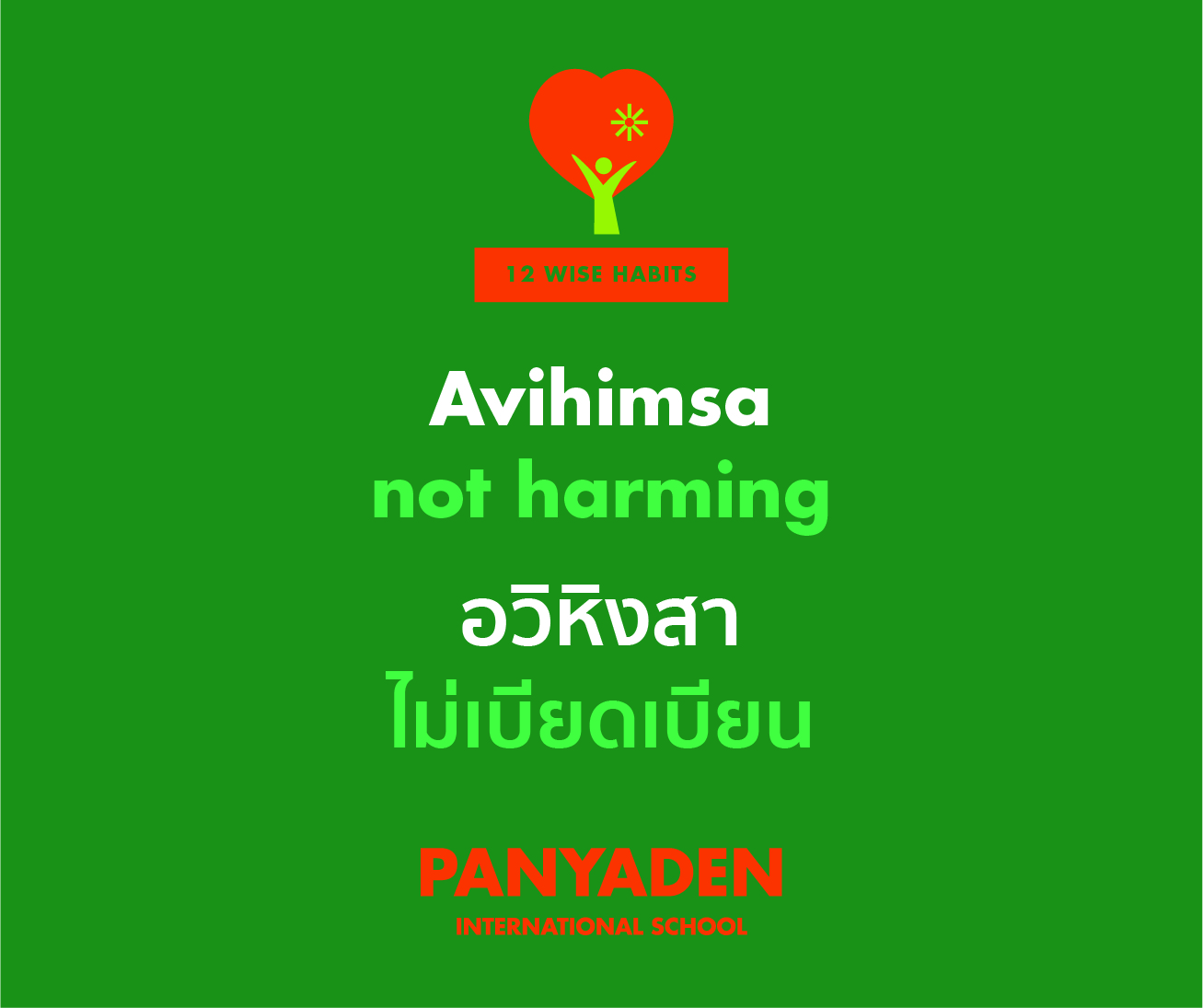 Avihimsa is a Pali word which means not causing harm. To practise 'Avihimsa' is not to say or do anything that creates suffering for oneself or for others and also not to say or do anything that creates or encourages the cause of suffering in oneself or others. This includes avoiding words or conduct which provoke negative thoughts or instigate harmful actions.
Avihimsa relates particularly to the Buddha's teaching on moral conduct. The Buddha taught about the benefits of 'right speech' and 'right action' and proposed an essential minimum of 5 moral precepts (Sila) for lay people to follow:
1. To abstain from killing any living creatures
2. To abstain from stealing
3. To abstain from sexual misconduct
4. To abstain from false speech
5. To abstain from intoxicants
These are not an empty formula dictated by tradition or religious scriptures, but rather a practical means to ensure one's speech and actions harm neither others nor oneself. They are essential pre‐conditions for the development of a peaceful mind (Samadhi) and arising of wisdom (Panya).
'อวิหิงสา'เป็นคำภาษาบาลี มีความหมายว่า การไม่ทำร้ายหรือเบียดเบียนผู้อื่น การปฏิบัติตามหลัก 'อวิหิงสา' นั้น นอกจากไม่ทำร้ายร่างกายจิตใจ หรือชีวิตของตนเองและผู้อื่นแล้ว ยังต้องหลีกเลี่ยงการกระทำใด ๆ ที่อาจทำให้บุคคลอื่นเกิดทุกข์หรือไม่สบายใจ รวมถึงการหักห้ามวาจาและความคิดในทางลบ อันนำมาซึ่งการกระทำที่เป็นการเบียดเบียนอีกด้วย
'อวิหิงสา' สอดคล้องกับหลักคำสอนของพระพุทธเจ้าในเรื่องความประพฤติด้านศีลธรรม ท่านทรงสอนให้เรา 'พูดดี' และ 'ทำดี' นอกจากนั้น ท่านยังได้เสนอหลักปฏิบัติอันเป็นพื้นฐานสำคัญสำหรับฆราวาส 5 ข้อ ที่เรียกว่า 'ศีล 5' อันประกอบไปด้วย
1. การละเว้นจากการฆ่าฆ่าสัตว์ ตัดชีวิต
2. การไม่ลักขโมยสิ่งของ ของผู้อื่น
3. การไม่ประพฤติผิดในกาม
4. การไม่พูดเท็จ
5. การละเว้นเครื่องดื่มมึนเมา
คำสอนเหล่านี้ไม่ใช่ตำราที่ว่าต่อกันมา หรือ คัมภีร์ทางศาสนา แต่เป็นหลักปฏิบัติที่จะทำให้เราไม่คิดทำร้ายต่อตัวเองและผู้อื่นด้วยคำพูดและวาจา ทั้งยังเป็นวิถีทางแห่งการยกระดับจิตใจสู่ความสงบมีสมาธิ และการเกิดปัญญา