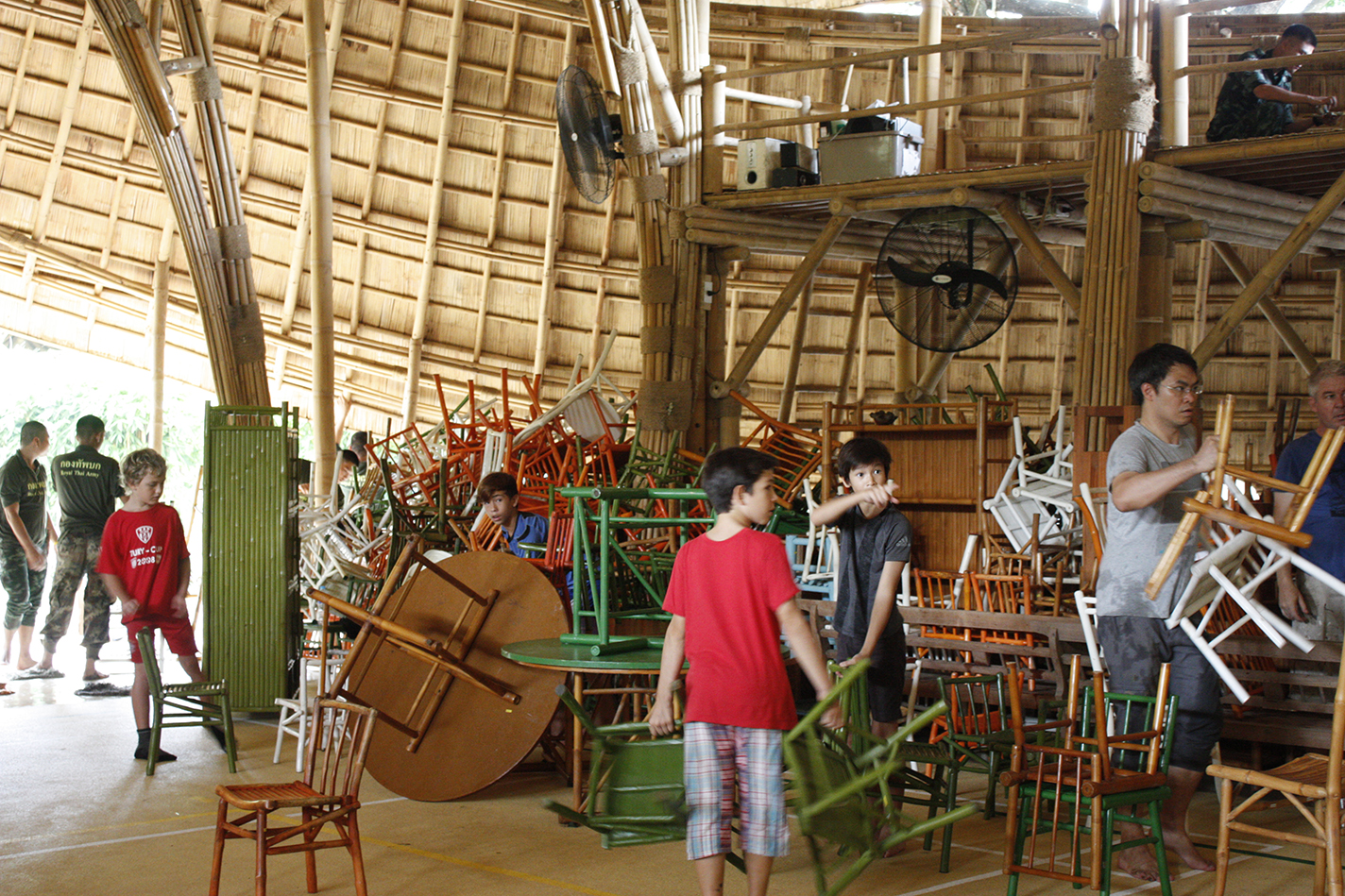 Panyaden School Community Meeting
Questions & Answers led by Head Teachers, Kru Dokmai and Michel

What do I tell my kids? After last week's flood, Panyaden's Head Teachers share advice with parents on how to break difficult news to their children.
The School is flooded! What am I going to tell my child?
When I heard the school was flooded, I had pictures of my own basement being flooded years ago. We had to pump out the water, mop the floor, replace the carpet, clean and dry furniture, replace some wallpaper or repaint the walls. It was weeks before life resumed normally. It was a disaster! This however, was nothing compared to the what I saw when I arrived at school. I was in shock! An event of this magnitude can generate various levels of worries, concerns and anxiety for adults. Children are even more vulnerable. Dealing with difficult emotions is something we acquire over time.
So we wonder… What is the most important message we want students to get from this? What can we do? Etc. There is no perfect answer to the questions we have but we should try to answer them keeping in mind a few key principles and elements already in place at Panyaden.
Q: How much information should I share with my child?
How much information one can absorb is based on his or her emotional maturity level. Too much information can be detrimental, so let's adapt what we share to what they can absorb without feeling discouraged. For children up to about Year 3, this would mean sharing something like: "There was muddy water everywhere at school, even in the classroom, so you can't go back to school until every classroom has been cleaned up and dried." Year 4 to Year 7 students could be told the same thing initially, with more information being shared when they see the site.
Q: How can I help my child deal with change?
Whatever issues we face, we need to feel we have a certain measure of control over them before we can decide to act positively, so let's provide an opportunity for children to contribute to the rebuilding of the school and the organisation of their new temporary settings. All students will be set to work to and add decorations to their new classroom as soon as they start at the new site on 6 November. Year 4 to Year 7 students will be invited to help at school on Friday morning, 20 October.
Q: Should we take our children to see the school?
Dealing with change is often difficult for children and adults alike. We can prepare them to move on to the temporary setting by showing them that the school is under renovation. Nursery to Year 3 students will be invited to come and see the school under renovation on Friday morning 3 November.
Q: When should I tell my child that the school will be temporarily relocated?
Time is a difficult concept for children to grasp and having to deal with difficult information over a long period of time only allows them to imagine the worst and this can lead to anxiety. So let's share the news of the move with them as close to the actual move as possible. For Nursery to Year 3, this could mean not mentioning the need to go to a new facility until they come and visit the school on 3 November.
Q: Should we take our children to see the new school location?
After children has a chance to see Panyaden being renovated, you might want to drive by the new temporary location with them over the weekend. A google map link will be emailed to all parents on Friday 3 November.
Q: What can my child learn from this?
In difficult circumstances, we seek to understand what's happening and why it's happening. Academically, that will be a great opportunity for students to deepen their understanding of the force of water, how it works, from eroding soil to moving rocks, to refreshing us when we're hot and providing electricity where we need it. Emotionally, it will be important to take the time to talk to your child about change, about how the need to acknowledge and accept our emotions but also the need to move forward and stay focused on what we can do to make things better. Point out the importance of teamwork and how everyone at Panyaden, parents, teachers and children are working together as a team.
Our school mission should guide our actions: "we aim to develop resilient, thoughtful and caring individuals through a practical, values-based education. We see that for this to happen, the school must work together with families and the wider community." (Read more.) We have seen a lot of the latter in the last few days! The school philosophy also reminds us that success in life includes building the ability to overcome difficulties. Now is an opportunity to live up to these standards, to do, on a bigger scale, what we promote in the classroom every day: use a difficult situation as an opportunity to learn. We know already that modeling is more powerful than words so let's show our students that together, we can do it! Show them that, indeed, nothing is permanent but that the personal qualities of character we have developed already with our 12 Wise Habits can be strengthen by challenges and that they will endure and be with us for the rest of our life.